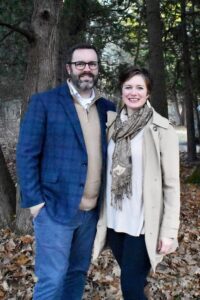 Hello, and welcome to the new Bridge Fellowship website!
My name is Andy Molyneux and I am the pastor of the First Baptist Church in Mt. Pleasant.  I also have the privilege of serving you as our fellowship's Director of Church Health.  By God's grace, I have been in the ministry for over fifteen years and have now served in the great state of Michigan since the summer of 2018.  Even though I am from Ohio, my parents both grew up in this state, so I always loved (or sometimes loathe) rooting for the Tigers, Pistons, Lions, Redwings and Wolverines!
I am eager to serve you and the churches in our state as we pursue God's glory, seeking to fulfill the Great Commission, through the ministry of healthy local churches.
Let me share with you the outline of my goals for this year, our first year under this new leadership model:
Director of Church Health
Goals for 2023
Assessment of the participation/health of the churches in our fellowship

Gather information from previous leadership, regional leaders, and other pastors

Determine what the greatest needs are and how they could be met proactively in an inviting and encouraging way

Get the Church Health Ministry set up on a good foundation

Develop best practices for working with churches in the fellowship

Counseling/Consultation

Mediation/Conflict Resolution

Help for pastoral search committees

Revitalization

Continual Improvement developed for the Church Health team

Assess skills and training already obtained

Determine resources needed first and most

Set schedules for reading/viewing and follow-up

Communication through various media of basic church health principles

Mission & Purpose of the church

What unites the church?

What do healthy churches do that keeps them healthy?

Principles of communication

Conflict Resolution, Peacemaking, Reconciliation, Forgiveness